Spring Racing Carnival has arrived, so it's time we hit the shops to find the perfect race day ensemble without blowing the budget!
We all want to look great on race day and we love a new outfit but there is no need to spend a fortune on it, so we have set off today to find a great race day look for under $150.
We wanted to do a one stop shop so decided to visit our local mid-range department store, Target, as they stock a complete range of affordable women's fashion, shoes and accessories to get the perfect race day look. You can also find similar looks at other budget department stores such as K-Mart and Big W.
We love that department stores such as Target, Big W and K mart provide a great range of fashion to suit all body shapes and size. Tina is an hourglass curvy size 14 and Sim is a slim column shaped size 8.
They also provide the perfect shoes and accessories to match the current fashion trends in store so it's easy to find something to match.
We also love that department stores are always discounting so you are very likely to happen to pop in on a day only to find it's 20% off all women's fashion.
We wanted to create complete outfits today so went head to toe, but you may have your own accessories at home that you can use to make your race day outfit even more affordable. We also wanted to find a garment that you will have in your wardrobe to wear again simply by changing your accessories.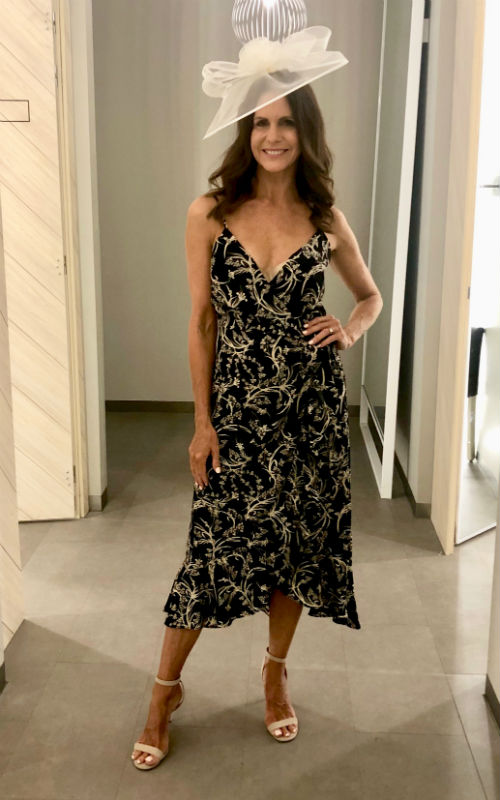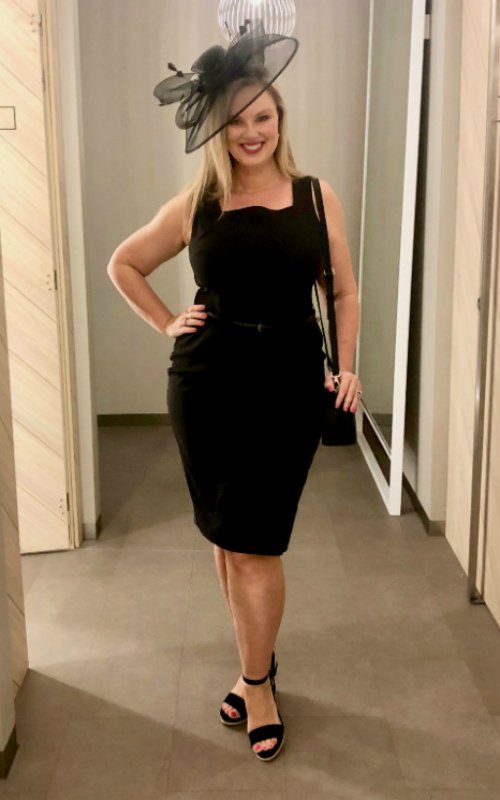 Derby Day is the first day of the Melbourne Cup carnival and is strictly monochrome. Sleek and elegant black and white is the look of the day. You can do all black, all white or a combination of both.
For Tina we found this gorgeous fitted sleeveless sheath dress with patent belt. We love this on Tina as the dress shows off her curves and she looks and feels super stylish and smart. This dress is a classic style so she will be able to get plenty of wear out of it as it would be perfect with a blazer for a more corporate look. We have teamed the dress for race day back with black wedge heels, so she is comfy all day and a black fascinator and handbag to finish the look.
Dress $49, Shoes $39, Fascinator $35, Bag $25        TOTAL $148.00
For Sim we found this pretty black and white floral print wrap frill hem dress.  It's a sophisticated yet feminine and elegant look, perfect for Derby Day. We teamed it back with Sim's own nude heels, and a statement piece ivory coloured fascinator which highlights the ivory floral in her dress, and we are loving the look.
This dress can be worn again for a more casual look by teaming with sneakers or a flat slide and popping on a denim jacket.
Dress $49 Fascinator $35, Shoes (her own)           TOTAL $84.00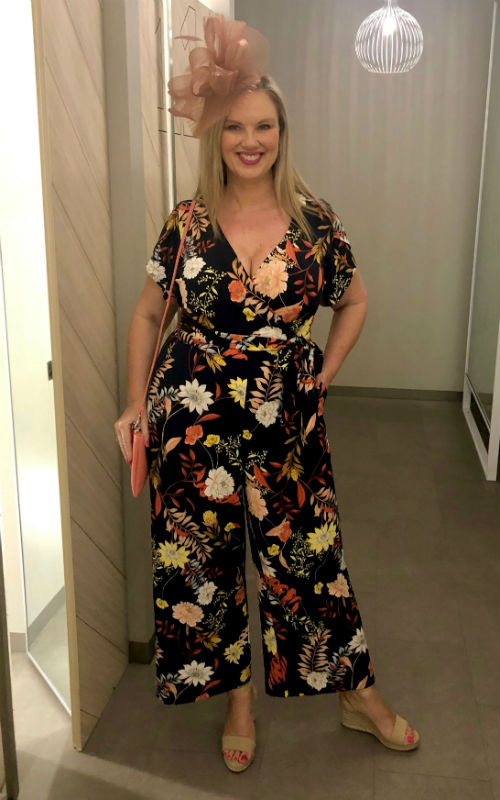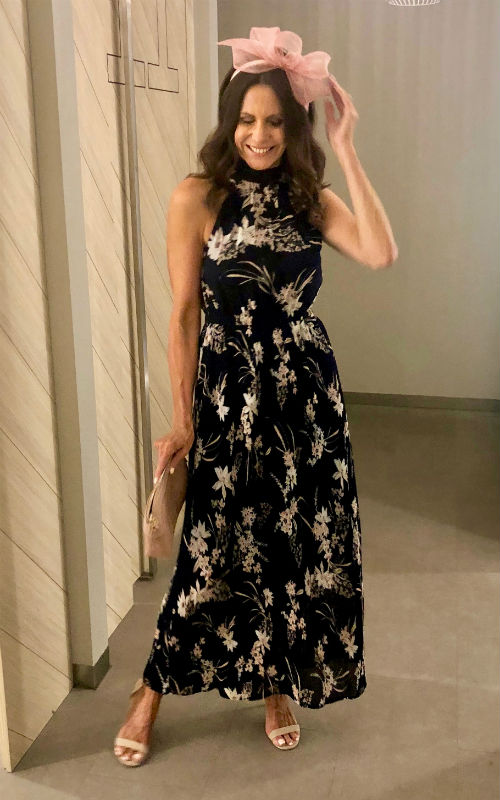 Melbourne Cup Day is all about the fun and the fashion. It's a more festive approach so we were looking for something bold and bright that would not only turn heads but make us feel fabulous. There are no rules so have fun with your outfit!
For Tina we found this fab jumpsuit in this beautiful bright, botanical print. The V neckline is flattering to her bust and a small fluted capped sleeve to cover her shoulders. Cup Day is all about making a statement with your headpiece, so we chose this fabulous fascinator which goes perfectly with the jumpsuit. Wedge heels to keep her feet happy and a cute little handbag finish the outfit off.
We love this jumpsuit as just a simple change of accessories can take it from day to night, smart to casual in an instant so again a staple in the wardrobe.
Jumpsuit $79, Shoes $39 Fascinator $25 Bag $10         TOTAL $153
For Sim we chose this pretty navy blue floral maxi dress. The high neck and cut away neckline enhance her shoulders and arms and the nipped in waist gives her shape. Its feminine and flirty and perfect for race day. If you are wearing pastel florals for race day, choose a subtle colour from your dress to match your accessories.  We picked out the pale pink for her headpiece, handbag and shoes and she loves the soft feminine look.
This dress can be worn again and would be perfect a wedding, christening or office Christmas party. For a festive look team with metallic accessories.
Dress $49, Shoes (her own) Fascinator $25 Handbag $25      TOTAL $99
We love shopping and had lots of fun doing this article as fashion is all about fun. We love that we found four complete affordable and stylish outfits in under an hour and all in the one place. You can watch our video on YouTube to see more and we hope that you picked up some great fashion ideas for the Spring Racing Carnival.