A pretty pavlova that will delight your guests on Christmas Day!

The good old Aussie pav is a favourite on Christmas Day and this one will look pretty as a picture on your Christmas table and it's so easy to make!

The combined colours of the reds and greens of the berries, pomegranate seeds, pistachios and Turkish delight will give the pavlova a very festive feel, perfect for Christmas Day.

For a bit of fun, ask your guests to help you with the decorating of the meringue. Kids especially love to help with this one.
For a festive feel, add a bright red cherry and a sprig of fresh green mint and serve in a long glass.
Truly refreshing on a hot summer's day!
300ml thickened cream
1 tsp rosewater
¼ cup pure icing sugar
Tsp vanilla extract
1 cup Turkish delight
1 pomegranate
Raspberries and strawberries for decoration
4 tbs finely chopped pistachios
7 egg whites
330g caster sugar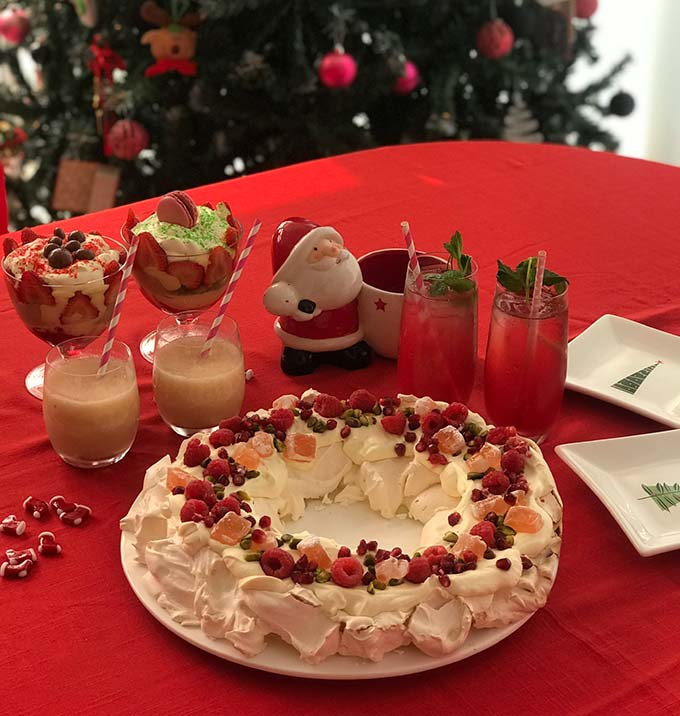 Preheat oven to 130 degrees Celsius
Line a large baking tray with baking paper and trace around a dinner plate to create a large circle. Draw a smaller circle inside to form your wreath boarder and place the baking paper traced side down on your baking tray.
Place room temperature egg whites in a bowl, add a pinch of salt and using an electric whisk, whisk them until the mixture forms stiff peaks.
Gradually add the caster sugar, half a cup at a time for one minute. When ready the mixture should be thick and glossy.
Using a metal spoon, spread the meringue mixture between the two circles on the baking paper to create your wreath shape.
Bake the meringue for 1-1 1/2 hours, then turn the oven off and leave until the oven is cold or overnight.
Lightly whip the double cream, rosewater, vanilla and icing sugar to soft peaks, and spread onto the meringue wreath.
Top with Turkish delight, pomegranate, pistachios, raspberries and strawberries and rose syrup.
Serve within 2 hours.
Enjoy