One in three Australians will need blood or blood products in their lifetime.
One in 30 Australians give blood each year (3%). That's not many Aussies rolling up their sleeve each year and these statistics are quite alarming.Until last week, I was one of those Aussies that had never donated blood before. Quite embarrassing, to get to the age of 56 and never even considered donating blood in my lifetime. No particular reason why, I'm not scared of needles or the sight of blood. I just had never gotten around to doing it.
A few months ago, my 82-year-old father was rushed to hospital after suffering blood loss from a complication of bowel cancer surgery. He had lost a lot of blood and required a transfusion. It was only then that it occurred to me, that not only had I never donated blood before, but I didn't even know what my blood type was!! I wanted to become a blood donor so I could help save a life just as someone had done for my father.
Tina, on the other hand has been a regular blood donor for many years. Her mum was a nurse so encouraged her at a young age to start donating blood. She also has a rare blood type, O- that is high demand from the blood bank. Tina's blood is universal and can be given to anybody requiring a transfusion, so it is in great demand. Unfortunately, blood type O- can only receive O- so it is extremely important that the blood bank has regular supplies of Tina's blood type.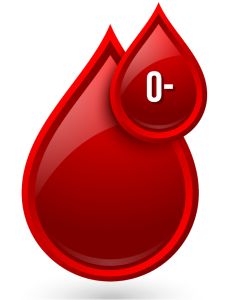 We were discussing this the other day and decided that it would be a good idea to do a story for Mid Life Fabulous on blood donation. We decided we would go together to donate blood. Tina as a regular donor and me as a first-time donor.
The process was simple. As a first-time donor I phoned the Australian Red Cross Blood Service on 13 14 95 and after answering a few questions, I was given the all clear to become a blood donor. I was given a donor number then registered and made a booking online (or you can do this one the phone but Tina and I wanted to book in together). Online bookings can be made at www.donateblood.com.au
On arrival at the donation centre you are given a questioner to fill in and then taken into the interview rooms where there are more questions to be answered such as medical and travel history then a check with the nurse to test your blood pressure, iron and haemoglobin levels on the day.
After you have been cleared, it's time to donate!
You are set up in a very comfortable chair, with your legs elevated and a blanket if you like. Tina and I were next to each other so if you are feeling a bit apprehensive, donate with a friend and you can chat with each other to relax you and take your mind off the needle. I'm not scared of needles but made the mistake of looking at it! It's big so distract yourself by chatting with the staff, watching TV or reading a book!
The donation process is quick. It only takes about 10 minutes, and, in this time, they will collect half a litre of your blood. A bandage is then applied to the area, while you rest for 5 to 10 minutes then it's time to get up and help yourself to the refreshments!
Relax for another 15 minutes or so in the refreshment area with a complimentary cool drink and a sweet or savoury snack. This is the best part! The choc chip cookies and milk shakes are delicious!
It's important to stay hydrated after giving blood so you can also grab a free water or sports drink to take home with you.
The staff at the Australian Red Cross Blood Donation Centre could not have been more helpful and friendly and do a great job in making you feel comfortable and relaxed.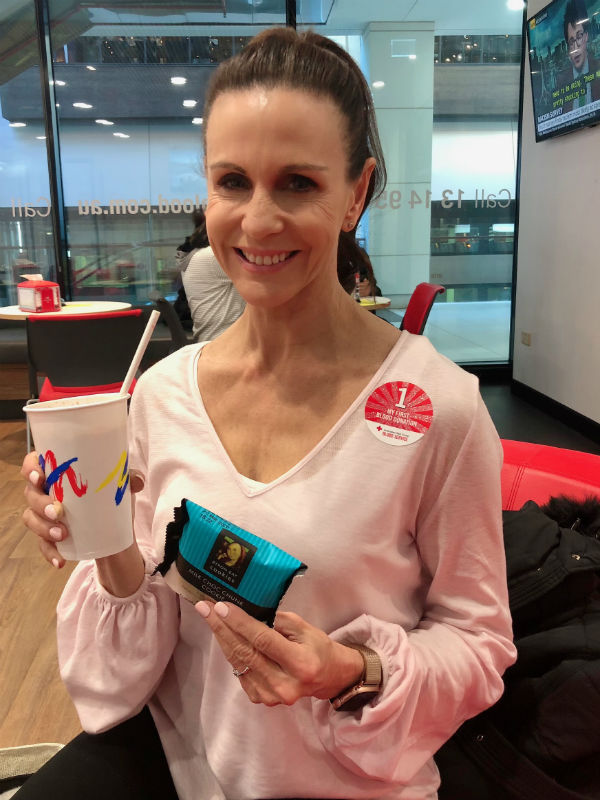 About a week after our donation I received a text message letting me know who my blood had helped, and I must say the feeling of pride when I received this message was amazing. To know that my blood had been put to use is an amazing feeling so for those who are new to donating you will receive this message as a small encouragement to come back.  The Australian Red Cross Blood Donation said when they initially trialled this text message campaign that it doubled the frequency of people donating.

If you want to check if you are eligible to donate click here.
And lastly once you have made your appointment to donate click here to make sure you ready on the day including the before and after donation do's and don'ts. Hydrating and eating something salty within 2 hours of donating are two important things to remember.
Watch the rest of our story and hopefully we can inspire some of you to donate blood.
Your blood donation can save up to three lives. Giving blood feels good! Comment below if we have inspired you to donate or if you are a donor please let us know.